I was curious how Ms. Spencer's second book would turn out so I couldn't help myself I had to read it. Her second book is: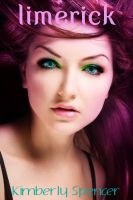 Jensen hoped she'd never need Shimmerspell again. But now someone is stalking her, someone who claims to be the Lady of the Lake. And to make matters worse, witches and dragons have come out to play. And Jensen must figure out how to harness her power and accept her destiny before she ends up losing everyone she loves.
Thank you Ms. Spencer for allowing me to read your work.