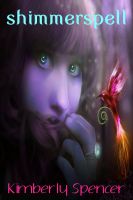 Here is the book's description:
When sixteen-year-old Jensen Meadows finds herself caught in the middle of an ancient faerie war, she soon learns that faeries aren't made of sparkly goodness. They're vicious. And worse, they're after her. With the help of Liam Casey, she delves into their world to find her missing sister and begins to suspect that her whole life has been nothing more than a faerie tale. But what if the truth is worse?
-------------------------
My review:
I had a few personal issues holding me back from finishing this book in a timely manner so I apologize.
I honestly have to say that I throughly enjoyed this book. I found the main character very likable and her sense of humor especially cute. The descriptions were well detailed to set the scenes. It was a delightful story line, this book was a pleasant change from your typical fantasy with a very original plot.
On another note, I felt as though a couple of things weren't explained that needed explanation and a few parts were a little confusing. That said I think all in all this was a fantastic book and perfect for young audiences.
I will be reading Ms. Spencer's next book "Limerick: A Faerie Tale Girl" with great expectations. I think she did a wonderful job on her first novel and I am looking forward to reading her second. I feel this author will only impress us further with each book she writes. Keep up the excellent work Ms. Spencer you have a winner on your hands. Thank you for allowing me to read your work.