Today I'm featuring a book by "Edna Curry", the description sounded like a very interesting read. I haven't read this book yet, but it is in my "read me" pile. Right now you can get this book FREE at Smashwords, I don't know how long this offer will last so grab it while you can.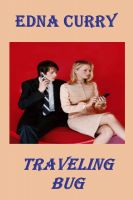 Here is the book's description:
What REALLY happened behind the scenes when a computer virus crashed computers from coast to coast, hitting the headlines? Jeff helps his father solve a software pirating problem, but will he lose his heart as the price?
Travel agent Diane is thrilled to help Jeff lead a computer company's VIP group to Puerto Vallarta, but finds herself embroiled in way more than she bargained for as they try to solve this mystery.
Doesn't that sound like a great romance mystery thriller? You can get the book here at Smashwords for a short while.