I entered a contest on Valerie Douglas' Facebook page and won the complete set of "The Coming Storm", how cool is that? Thank you Valerie very much for your generous gift! Below you will find information on the books I won!
---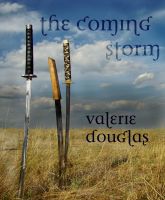 Elon of Aerilann, Elven advisor to the High King of Men, helped to negotiate the treaty between Elves, Dwarves and men. That treaty has held for nearly twenty years but now his foresight warns him that the fragile truce between the races is threatened from without by an unknown enemy and from within by old hatreds and prejudice. With the aid of his true-friend Colath, the wizard Jareth and the elven archer Jalila, he goes in search of the source of the threat.
Ailith, the Heir to Riverford - fights her own silent battle. Her father has changed, something's wrong, but she can't say what, only that her beloved father is suddenly prone to inexplicable rages. Her quest to discover what changed him puts her life and soul in danger and leaves her only one place to turn, Elon. Ailith, though, has a secret that threatens everything for which they're fighting. To preserve the alliance, though, Elon may have to choose between his honor, his duty and perhaps much more.
---
A shadow has fallen over the Kingdoms and once again Elon of Aerilann is called to answer it.



Now a member of the ruling Council, Elon and his companions are forced to fight for the Alliance he has given everything to preserve.



Now, even as a breath of hope is offered...
---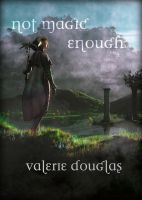 For Delae, a lonely landholder on the edge of the Kingdoms, a frantic knock at the door on a stormy winter's night brings more than a cry for help.
After centuries of war Elves have little contact with the race of men, but Dorovan can't bring himself to ride past those so obviously in need. Especially the small woman so determined to right the overturned wagon.
One small act, with enormous consequences. Not Magic Enough is a tale of love and honor, duty and determination, that sets in motion a chain of events that will change the Kingdoms forever.
---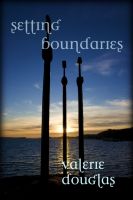 After centuries of war an uneasy peace has finally been negotiated between Elves, Dwarves and Men, thanks to Elon of Aerilann, Elven councilor to the High King of Men. One final task yet remains, one final bone of contention - to set the boundaries between their lands. It's a task that will be easier said than done. Although most of the lesser Kings signed the Alliance, not all wish to see it succeed, and some are willing to oppose it. Violently.



For young journeyman wizard Jareth it's the opportunity of a lifetime. Unlike many he's long admired the calm, seemingly aloof Elves, especially Elon of Aerilann and his paxman Colath.




What he doesn't know is that the journey will test him to his limits, forge a friendship that will last for centuries, and change the Kingdoms forever.
---
Go check them out! I can't wait to read them, I wish I could bump them up on my "Next to Read" list.
---