I am having my 1st Giveaway!
Anyone who joins my blog within the next two weeks will get a

FREE

copy of
Brian Rathbone has been kind enough to allow me to give away copies of his book to lucky persons of my choosing. So join my blog by clicking "

Follow with Google Friends Connect

" over to the right and

enter your email address

at the bottom of this page to follow. After you have done that come back here and leave a comment (click "here" to get to the comment window) with the email address you would like for me to send the special "coupon code". Then hop on over to Smashwords to get your

FREE

copy of this fabulous book!
The Dawning of Power is a trilogy, which includes Call of the Herald, Inherited Danger, and Dragon Ore.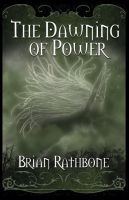 (I found this review on Amazon and thought it was a great description)
Follow Catrin on her journey to becoming the powerful "Herald of Istra".
Legend says that a Herald will be born who will save the land of Godfist from invaders. This Herald will fight for their freedom. To some it is only a legend but to others it is a prophecy, waiting to be fulfilled. The Zjhon are ancient enemies and are planning an attack but no one takes heed of these warnings until it is too late. Now it is up to the Herald to save them. The question is... will the Herald realize her destiny in time to save Godfist?
But that's not all...the Zjhon believe in the prophecy and have given the order to search for the Herald and do away with her.
I can't say enough good things about this book, I didn't want the story to end! I thought the author's descriptive writing was perfect to give you the feeling of the story and the surroundings along and throughout their journey. You will fall in love with the characters and root for them as they do battle in more ways than one.