Today is day 3 of Menage a Blog. Today I'm featuring author Regan Black and her book "Tracking Shadows". This sounds like a great read! To get your FREE copy just head over to Regan's site and leave a comment, yup it's that easy! Let's tell you a little bit about her book.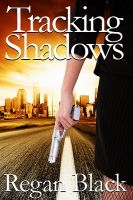 Here is the book's description:
In 2096, the American government has gone above and beyond to 'protect its citizens', even regulating sugar and coffee. Every new legislative measure opens up a black market for an enterprising person willing to seize the opportunity.
In Chicago, Slick Micky is the king of smuggling. Known to deliver anything, anytime, anywhere, he specializes in caffeine and sugar and works in the anonymity of shadows. But recently an old enemy is tired of waiting for Micky's empire to crumble and has called in the best assassin in the business to take him out.
Trina Durham is an assassin with a sterling reputation, thanks to her unique ability to induce deadly hallucinations. When Slick Micky killed her best friend, she left Chicago - forever. She's back now, unable to resist the perfect opportunity for vengeance. But no one warned her Slick Micky might as well be a shadow. Or that shedding light on the man and his secrets would put both her heart and reputation at risk.
Doesn't that sound like a thrill ride? I can't wait to read it. When you leave a comment on Regan's page you will automatically get a FREE copy of her book, but the goodies don't end there. You can also enter to win her "

Smuggler's Stash

" prize package (click here for more information). That includes: "all the 'contraband' you need for a good reading escape: a Tracking Shadows tote bag stuffed with a t-shirt, coffee mug, gourmet coffee, chocolate covered espresso beans, bubble gum cigars and a surprise or two." Doesn't that sound terrific! Just what you need to curl up with a good read. Go check her out and enjoy your

FREE

book!