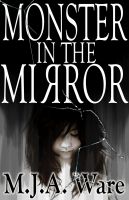 Here is the book's description:
For a limited time, includes two free additional short stories. That's three great short stories for the price of one (which right now is

FREE

).
Monster in the Mirror:

Could there be a hidden room somewhere in your house? And just what would you find lurking there? Nate, his little sister, and best buddy Dan, stumble upon a hidden room during a sleep-over. What they find inside is anything but friendly.
Includes the bonus short story:

Steven, Space Stowaway (originally published in the June issue of Spaceports & Spidersilk) -- When Steven's Mom leaves for a mission to Mars, he's determined to come along. Even if he has to sneak onboard. Just one problem: he gets caught. And the Captain has a particularly unpleasant way of dealing with stowaways.
Includes the bonus short story:

Bloody Marcy -- When a game of Bloody Mary goes terribly wrong, someone might just die.
Don't forget Smashwords sale is still going on, there are a lot of great titles for

FREE

or discounted!