I know, usually I try to only list FREE books on here, but I thought this ebook was worth mentioning. Staying with the Fantasy theme, we have a new book by K. J. Hargan called "The Last Elf of Lanis". If you are into Fantasy books, this one should be right up your alley, it has everything from Magic to Elves to Battles for Power. If you look at the cover closely you can see a lot of the story line. It's a very busy cover, but it works! You can find his book at Smashwords (click here) for only $0.99.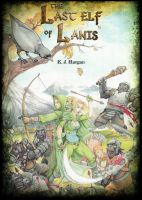 Here is the book's description:
Wealdland is being overrun by troops of vicious garonds, led by the 900 year old, evil lord of magic, Deifol Hroth. Iounelle, last of the elves, embarks on a dark journey of revenge for the extinction of her race by the garond army. But, one of the humans she rescues, with the help of the mysterious Archer, knows how to find the sword of power, the Mattear Gram, the edge in the coming battle.
There are several books in this series, the ones that are unpublished you can only get from his blog. Find out more by visiting his blog at "K. J. Hargan's Blog".