Okay, the next book on the list is "The Trouble with Green" by Liv James. This young lady gave me this book quite some time ago for review and has been very patiently waiting her turn.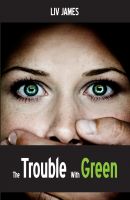 Here is the book's description:
When Josie's earth-friendly inns get national press the good news doesn't last long. Her husband gets a new gig … on the other side of the country. The owners of her best inn disappear. And an old acquaintance at her door can only mean danger. Josie is about to discover why going green can be deadly.
I really do like mystery/detective stories. I have to say, I really did enjoy this book. I thought the main character was delightful and very likable. The plot was great and it flowed nicely throughout the book, I was intrigued until the end. The story was original and nicely thought out. I do have to say though, I really liked the original cover better than this one. Ms. James, you did a wonderful job, keep up the great work and I look forward to reading more of your writings.
You can pick up her book for

FREE

right now during Smashwords Summer/Winter sale, click here to grab your copy!