Okay, back on the fantasy trail we have the "Dragonbards Trilogy"
by Shirley Rousseau Murphy.
I couldn't wait to promote this one, it is another Y&A fantasy title about singing dragons, dark raiders, magic and more. This series seems to have a totally different spin on your typical fantasy. The first in the series is called "Nightpool", It really looks like a good read whether or not you are young or young at heart. As I said before, I'm a sucker for a fantasy book.
Here are the 3 books in this series: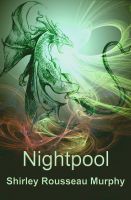 Here is the book's description:
Dragonbards Trilogy, Book 1. As dark raiders invade the world of Tirror, a singing dragon awakens from her long slumber, searching for the human who can vanquish the forces of evil—Tebriel, son of the murdered king. Teb has found refuge in Nightpool, a colony of talking otters. But a creature of the Dark is also seeking him, and the battle to which he is drawn will decide Tirror's future.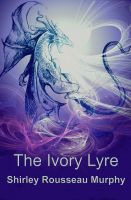 Here is the book's description:
Dragonbards Trilogy, Book 2. The bard Tebriel and his singing dragon Seastrider together can weave powerful spells. With other dragons searching for their own bards, they have been inciting revolts throughout the enslaved land of Tirror. Only if they can contact underground resistance fighters and find the talisman hidden in Dacia will they have a chance to break the Dark's hold on the world.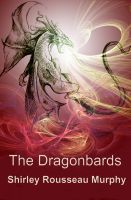 Here is the book's description:
Dragonbards Trilogy, Book 3. Only the dragonbards and their singing dragons have the power to unite the people and animals of Tirror into an army that can break the Dark's hypnotic hold over the world. Before their leader Tebriel can challenge the hordes gathering for the final battle, he must confront the dark lord Quazelzeg face to face in the Castle of Doors, a warp of time and space.
Right now you can get these at Smashwords for 50% off until the end of July, just click on one of the books above and that will take you to that title's page. I'm going to have to squeeze this one in the list somewhere. Enjoy and happy reading!