Menage a Blog is kicking off to a great start, today is day 2 of the tour. Starting the tour today we have
Lacey Weatherford
with her book "
The Trouble with Spells
" from her "Of Witches and Warlocks" series. To get this great book all you have to do is comment on her page (here). But the goodies don't stop there, by leaving a comment you will be automatically entered for a chance to win a Kindle!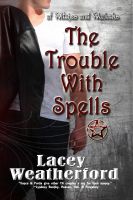 Here is the book's description:
Portia Mullins had always lived the life of a normal teenager, up until her sixteenth birthday. She is then informed by her grandma that she is actually a witch who is a descendant of a long line of witches and warlocks. After overcoming her disbelief she finds that being a member of the coven comes with one great perk in the form of the school's handsome bad boy, Vance Mangum. Vance and Portia have an immediate connection as a budding romance begins, only to be threatened by turbulent skies on the horizon as Vance's checkered past rears its ugly head to haunt them. Portia is forced to use her untried powers in defense of everything she loves in a desperate attempt to hold on to the one thing that really matters in her life.
The goodies just keep on coming, if you Blog, post on Facebook or Tweet this phrase "NOW! FREE EBOOK #TheTroublewithSpells + a chance 4 a personalized pic from @MattLanter #MattLanterMuse #MenageABlog http://bit.ly/pxd08f"

you will earn additional entries to win her grand prize, a wonderful gift basket.
Here is the description for her gift basket:
Theme: "A Night IN with Vance Mangum!" Pamper yourself with bath/spa products, candlelight, and relaxing music! Then slip into your comfy "Vance Kiss" t-shirt and cuddle up with ebooks 1-4 in the Of Witches and Warlocks series while devouring decadent hand dipped chocolates. Oh ... and did I mention that comes with a personalized, signed picture from the ever-so-hot actor, Matt Lanter, who is the muse for Vance Mangum? Yep, it's true! The photo will be delivered straight from Matt to you!
Doesn't that sound fabulous! So get off your butt and hop on over to her site and join in on the fun! Once you get to Lacey's page it will have directions on how to get through the tour and the other two stops for today.