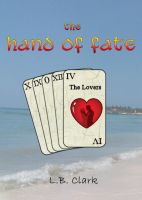 "

The Hand of Fate

" by

L.B. Clark
With her 30th birthday on the horizon and life handing her lemon after lemon, Dylan Connelly wants nothing more than to get away from it all for a few days. With her best friend and co-conspirator at her side, she embarks on a week-long cruise, intending to sit back, relax, soak up the sun and a few daiquiris, and just get away from the disaster her life has become. The last thing she expected – or wanted – was to become intrigued by a gorgeous stranger. But sometimes chance – or fate -- has a way of changing our plans.
This romance novella is a prelude/side story to
L.B. Clark's
"Jukebox Heroes" series, it introduces some of the characters.
You can get "
The Hand of Fate
" by
L.B. Clark
for
FREE
from
Smashwords
(click
here
, available in multiple formats) and you don't even need a coupon code
So let's see what else
L.B. Clark
has in store for you.
An unexpected phone call from her best friend's rock star boyfriend pulls 35-year-old Elizabeth Morgan out of the comfort and safety of her quiet, normal life and into a situation she could never have imagined even in her wildest nightmares. The world as she knows it changes forever in the blink of an eye, forcing her to reassess everything she thought she knew about reality, when she finds herself facing a world where terrorists can sling magic as well as bullets, everyone is both more and less than they seem, and even her own thoughts and feelings are suspect.
You can check out
L.B. Clark's
website (click
here
) for more information on her series "
Jukebox Heroes
", you can also visit her on her
Facebook
page (click
here
).
L.B. Clark
also has a blog (click
here
) where you can take a peek on how she incorporates music into her stories.