Alright, I have a different story for you today. This is a story line that I have never seen touched upon. Do you have a true love waiting for you somewhere in the world? Do you believe you have found that true someone? Let's find out about Elena Wolchek in this first story of this new series.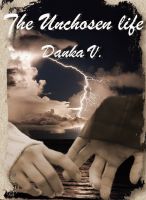 Here is the book's description:
One soul mate...One true love...And the fact that they are not the same person!
People believe that every soul has its other half somewhere in the world. A soul mate or so I've been told, and they spend a lifetime seeking that other half, hoping to find it… I don't need to hope anymore because mine found me… And tried to take my life!
Today, twenty-four years since I was born, I finally do believe that there is a true love in life and that somewhere out there, there is that other one who will, once they show up, complete your own soul. But I learned much too late that they are not the same thing! My name is Elena Wolchek and this is my story.
How's that for an original story? As a special offer from Ms. Danka V. she is allowing my followers to receive a

FREE

copy of "The Unchosen Life". You can get your copy at

Smashwords

(here, in multiple formats). Just add "The Unchosen Life" to your cart, enter this code "

TX86M

" and hit the update button. You should see the total change to $0.00, and then check out. Now all you have to do is download and enjoy!
Because Ms. Danka V. was kind enough to give us her story for

FREE

it would be great to leave her a review on

Smashwords

once you finish reading it. I know she would really appreciate it.