Today we have a book for children, it's called "

Big Sister Babysitter

" by

Lysne Nolte

. Her book is about a little girl and her acceptance of a new sibling on the way and her faith in her God. Let's have a look.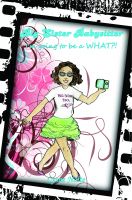 Here is the book's description:
LA is a typical nine-year-old who is used to being the sole spotlight in her parent's world. She records her every move, but a new sibling is not on LA's agenda. When learns where babies come from, it is comical and her reactions are spot on with how a young girl would react. When the pregnancy takes a scary turn, LA puts her faith in God and learns how strong her love is for her new sibling.
There are only three things that I know for sure:





1. I want to be a famous singer and dancer





2. I trust God's plans for me





3. Everything I have ever known is about to change
Exuberant fourth grader, Lake Ashley Payton (also known as LA) and her blended family live on a beautiful and peaceful island. One day LA is informed that her mother is going to have a baby. This life changing news rattles her world and she fears the worst. LA captures every moment to make a video diary and uses Bible verses to help her through the emotional struggles. She becomes curious and learns the process of a baby's development and when her new sibling arrives, something happens that teaches her many lessons about being a big sister.