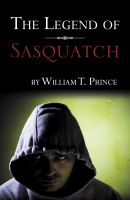 Here is the book's description:
In this action-packed character novel, Sasquatch is not the mythical creature rumored to haunt the forests of North America. He is a young Texan named Clint Buchanan (pronounced "Buck Hannon") who prowls the streets of Dallas in the late 1970s. Clint seems to have it all--size, strength, intelligence, personality, looks, and any woman he wants. Unfortunately a combination of bad choices and bad luck has tragic results. Join this behemoth as he faces the life-changing and character-defining events of his late adolescence with a colorful supporting cast that includes devoted buddies Milton, Tom, and Hulk. (Contains adult content--mature readers only!)
Here is a comment by the Author,
William T. Prince
, that I plucked from his profile at
Goodreads
:
"Bear in mind that this gritty, action-packed character novel contains adult content and is not for minors or anyone who might be offended by R-rated material, but if you can handle the uncompromising realism, it is a gripping, face-paced story that you should enjoy."
Wow, the reviews on "
The Legend of Sasquatch
" look great everywhere you go, everyone is saying that the book is FANTASTIC! People just couldn't say enough good things about this story. I suggest snatching up this book before the price goes back up and get ready for
William T. Price's
up coming novel due out very soon.
You don't need a coupon code to get this book at
Smashwords
(click
here
). The author has informed me that he has reduced the price of his novel in electronic format at
Smashwords
(click
here
), and everywhere else, to only
.99¢
. And he has cut the price in half for the paperback format at
Amazon
(click
here
) and
Barnes & Noble
(click
here
), until the release of his follow-up novel which is due out the end of this year.
Amazon:
Electronic Format
Paperback Format
Barnes & Noble:
Electronic Format
Paperback Format
Diesel Book:
Electronic Format
iBooks (Apple):
Electronic Format
Kobo:
Electronic Format
Smashwords:
Electronic Format
(Multiple Formats)