I have a magical story for you today. Next up is a novel aimed toward "Young Adult" audiences, but hey, aren't we all young at heart? I don't know about you, but I really enjoy a lot of the "Young Adult" novels. Sometimes I think the imaginative writing is better and gives you more of a feel for the story, not to mention the adventures you get to go on. So without delay, here we go!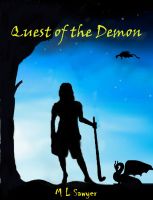 Here is the book's description:
Darci is a popular sixteen-year-old girl who plays basketball and lives in an ordinary country town. But her life is changed forever when she is accidentally transported to the land of Nahaba by a young apprentice wizard called Taslessian.
Within hours of her unexpected arrival, both teens are thrust into a dangerous journey to the cave of Grisham the Great in the hope that he would be able to send her home.
Upon reaching the cave, however, Darci quickly discovers that there is no such thing as accidents, and that their journey is only just beginning.

The Quest of the Demon has begun.
I sure am glad I'm on this side of the book for this adventure! I love wizard stories, but I sure don't want to be in one with a demon on the loose! Ms. Sawyer has been kind enough to provide everyone with a coupon for

75% off

of her book at

Smashwords

(click here, available in multiple formats). This coupon is good until September 30, 2011. Just add "

Quest of the Demon

" to your cart, enter this coupon code "VU75D" and hit the update button. You should see the total change to $1.00, and then check out. Now all you have to do is download and enjoy!
"

Quest of the Demon

" is also available in paperback in Australian book stores and is listed at $29.95AUD, published by Equilibrium Books. Also you can purchase "

Quest of the Demon

" online through her website (click here) or through the publisher's website (click here) and is 277 pages long. The ebook version which is $3.99 is available at Smashwords (click here, available in multiple formats) and

Amazon

(click here).
Ms. Sawyer tells me she is looking for bloggers who would be interested in receiving an arc (advanced reading copy, don't worry, I didn't know what it was either) of her up coming novel "

Tallen – Quest of the Demon Aftermath 1

" due to launch release in December 2011. For more details on "

Tallen

" please visit her website (here) or send her a message on the "

Feedback Form

" on her website. In preparation for the launch she is also hosting a "

Goodreads Giveaway

", she is giving away 2 copies of her novel "

Quest of the Demon

", click here for more information.
Here is a sneak peak at M L Sawyer's up coming novel "

Tallen – Quest of the Demon Aftermath 1

":
Growing up not far from the road to Chinta on the edge of the Jungle Dragon, Tallen is excited to have her two brothers home. Recent times have been hard, Tallen herself barely surviving an attack by a derelict stranger in their very own barn.
The war that never was has relieved them of their duty at Chinta so much so that her father, the Sergent of the Guard is able to return for a visit, bringing news of a possible suitor for Tallen considering she's almost of that age.
Tallen is not sure what she wants, but the man her father brings home was not what anyone expected. At least she knows that her family always have her best interests at heart when the pompous, self interested, merchants son is sent back to Chinta.