I know I usually just post FREE books, but this one really caught my eye. I found it today on Smashwords Facebook page, it looked like a really creepy story and I had to tell you about it. Here is the information (don't you love the cover):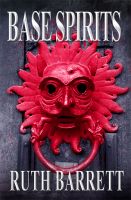 Here is the book's description:
'Murder has took this chamber with full hands




And will ne'er out as long as the house stands.'




~A Yorkshire Tragedy, Act I, Sc. v
In 1605, Sir Walter Calverley's murderous rampage leaves a family shattered. The killer suffers a torturous execution… but is it truly the end? A noble Yorkshire house stands forever tarnished by blood and possessed by anguished spirits.
Some crimes are so horrific, they reverberate through the centuries.
As an unhappy modern couple vacation in the guesthouse at Calverley Old Hall, playwright Clara, and her scholar husband, Scott, unwittingly awaken a dark history. Clara is trapped and forced back in time to bear witness to a family's bloody saga. Overtaken by the malevolent echoes, Scott is pushed over the edge from possessive husband to wholly possessed…
Inspired by a true-life drama in Shakespeare's day, this is itself a play within a play: a supernatural thriller with a historical core.
Only one player can survive.
Doesn't that sound like a really good book? I'm saving my pennies to get this one. I can't wait to read it. I'm going to add it to the "next to be read" list and post a review once I've read it.

Anyway you can find Base Spirits By Ruth Barrett at Smashwords (click here) and Amazon (click here, for Kindle) for only $2.99. The book is almost 75,000 words. So slink on over to Smashwords & Amazon and check out this very sinister thriller. If you read it before I do, come back here and tell me how much you liked it!